4th & 5th Grades
Mrs. JoAnn Cordes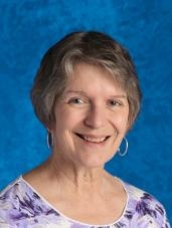 My name is JoAnn Cordes. It is my privilege to teach grades three and four at Grace Lutheran School.
My elementary school years were spent in multi-grade classrooms at St John's Lutheran School in Pigeon, MI. I received my high school diploma from Michigan Lutheran Seminary in Saginaw, MI and went on to receive a Bachelor's Degree in Education at Dr. Martin Luther College in New Ulm, MN in 1975.
Upon graduation I was called to teach grades 1-3 at Christ Our Redeemer Lutheran School in Bend, OR. It was there that I met my husband, Roc Cordes. I enjoyed 2 1/2 years in the classroom there before leaving to care for our children. In 1990 I returned to the classroom as an educational assistant in Portland Public Schools. After obtaining my Oregon and Washington state teaching licenses at Concordia University, I substituted in the public school system. In 1994 I received the call to teach grades 4-5 at Grace Lutheran School. The majority of my time in the classroom, however, has been spent with third and fourth graders. It is truly my joy to be sharing the love of our Savior with his precious children each day.